Divine Office
---
Alongside the Mass, the Divine Office is the main liturgical framework for singing Gregorian chant repertory and one of the poles of plainchant research.
The texts and musical elements form a unit that is functionally decided, carefully chosen, and incorporated into a system.
The careful choice and incorporation into a system may differ between periods, and also between places and regions, so that the stock of elements in the Divine Office may express self-identification in terms of periods, places, institutions and regions.
Research has the following outcomes:
European usages and rites become distinguishable and susceptible to description.
Diverse historico-genealogical and regional-institutional relation systems behind them emerge.
It becomes possible to reconstruct the practice of liturgical chant.
The classical and late medieval layers of plainchant style become distinguishable.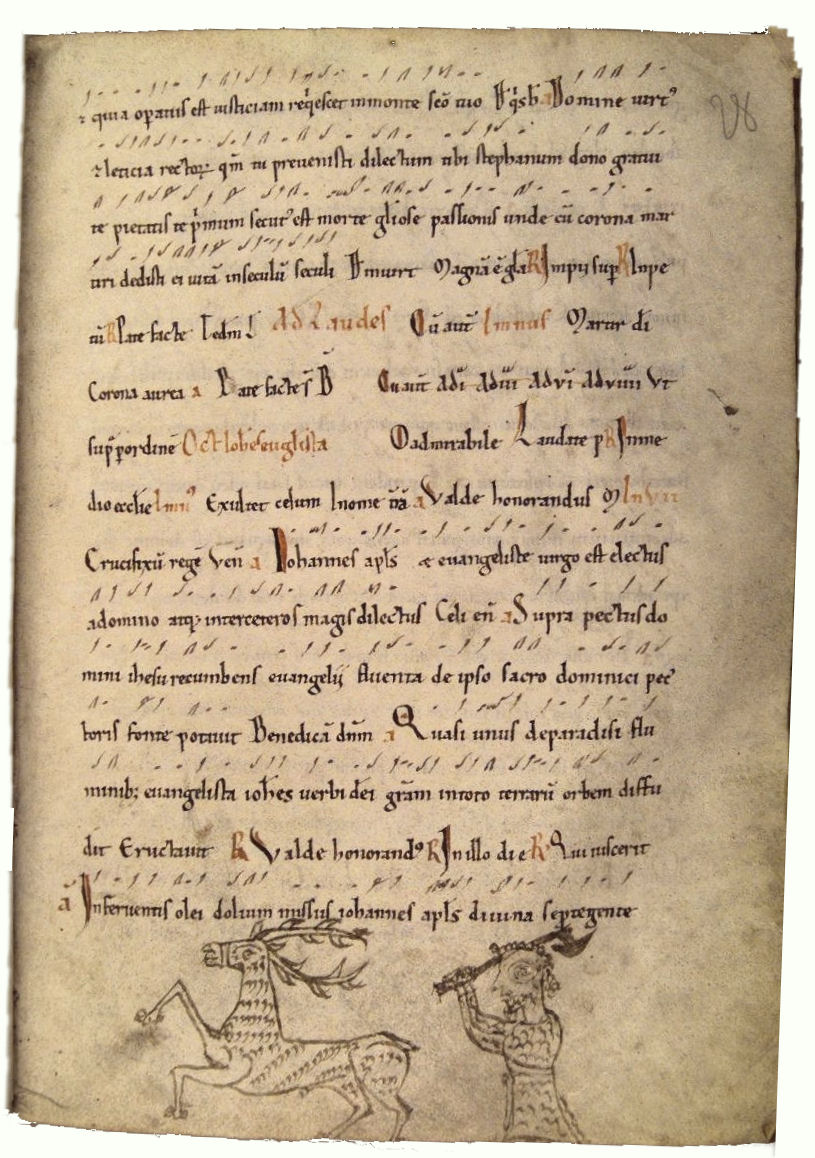 Further details .
The Divine Office (divinum officinum), alongside the Mass, is the main pillar of medieval liturgy, with a more varied order of ritual than the Mass and a stock of musical elements that increased continually through the Middle Ages.

Compared with the Mass, the Divine Office is a major creative area for liturgical music, which includes a high proportion of elements typical of single medieval dioceses. This applies to the feast days of the church year (proprium de tempore) and to the office for saints' days (proprium de sanctis). The varying nature of the liturgy according to times and places provide researchers with angles of investigation, in which features of the medieval Office traditions and variations in rite can be distinguished and reconstructed.

Study of the medieval Office through its liturgical music was initiated in the Early Music Department in the mid-1980s, by László Dobszay. The Corpus Antiphonalium Officii Ecclesiarum Centralis Europae (CAO‒ECE) programme that he devised and his students took further covered a survey and comparative analysis and interpretation of the whole chant repertory of Divine Office traditions in the region.

Apart from the exploration of the whole Office traditions the other main task of the Department is to study the saints' offices of Hungary and Central Europe in the Middle Ages. Contrary to the former, it means the deep analysis and monographic exploration of the liturgical material connected with individual saints. Its central task is to give an outline of the cults, the Office traditions belonging to them, the different forms of their chant repertory and transmission. This research is successfully integrated into the projekt HISTORIAE, coordinated by the Study Group Cantus Planus of the IMS.