The building of the RCH Institute for Musicology will be closed between November 1, 2022 and March 31, 2023 due to technical reasons. The staff of the Institute can be reached by email. Thank you for your understanding!
This closure only concerns the Institute itself, the Museum of Music History is still open from 10:00 to 16:00 every day, except for Mondays.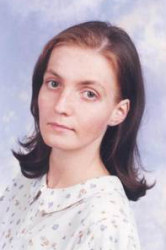 | | |
| --- | --- |
| Department: | Bartók Archives |
| Degree, position: | PhD, Research Fellow |
| Email: | This email address is being protected from spambots. You need JavaScript enabled to view it. |
| Room: | 104 |
| Phone: | +36 1 214 6770, Ext. 264 |
CV
Csilla Mária Pintér (b. October 3, 1968, Szombathely) studied musicology at the Liszt Academy of Music between 1992 and 1999, and graduated with a diploma in musicology from there with a dissertation on Olivier Messiaen's Vingt regards sur l'Enfant-Jésus ("Reflexió és kontempláció Messiaen zenéjében" [Reflection and contemplation in Messiaen's music], supervisors: Sándor Kovács and Tibor Tallián). She continued her studies as a Ph.D. student at the Liszt Academy between 1999 and 2002. She wrote her Ph.D. dissertation on Bartók's rhythm (Emblematic Stylistic Marks in Bartók's Rhythm, 2010, supervisor: László Somfai). She received a Zoltán Kodály scholarship between 2000 and 2002 and is now a research worker of the Bartók Archives of the Institute for Musicology of the Hungarian Academy of Sciences.