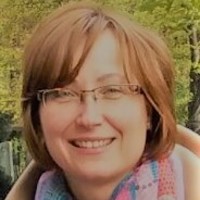 Jana Laslavíková, PhD, Research Fellow, Institute of Musicology of the Slovak Academy of Sciences; Institute of Theatre and Film Research of the Slovak Academy of Sciences. Her PhD thesis and her work at the Institute of Musicology is closely related to the research topic of the project. Her dissertation (defended in 2009) on the Stadttheater from Bratislava (1886–1920) is based on an exhaustive source research and contains data, such as the complete overview of the activity of the directors of the Bratislava Hungarian and German theatres. Since then several studies have been published and a database of theatrical programmes had been initiated.
CV
Education
2006 - 2009

Comenius University in Bratislava, Faculty of Philosophy, internal doctoral studies, major in Theory of Music
Topic of dissertation: Municipal Theatre in Pressburg in the years 1886-1920
Conferred title: PhD.
2001 – 2006

Comenius University in Bratislava, Faculty of Philosophy, master´s studies in Musicology
Topic of diploma thesis: Male choirs of Leoš Janáček on the poems of Peter Bezruč
Conferred title: Mgr., certificate of educational qualification
2000 – 2002

Church conservatory, Bratislava, area of church music
Graduate diploma
1996 – 2000

Conservatory of J. L. Bellu, Banská Bystrica, area of church music
Baccalaureate with honors

Studies abroad
From 09/2017

Austrian Academy of Sciences, Institute of Culture Studies and Theatre History
Scholarship in the program "Action Austria-Slovakia"

10/ 2007 – 02/ 2008

University of Vienna, Institute of Musicology
Scholarship in the program "Action Austria-Slovakia"

10/ 2004 – 01/ 2005
University of Vienna, Institute of Musicology;
University of Music and Performing Arts, Institute for Cultural Management and Cultural Studies
Scholarship in the program "Action Austria-Slovakia"
Scientific activities
| | |
| --- | --- |
| 01/2018 – present | Slovak Academy of Sciences, Institute of Theatre and Film Research, research fellow |
| 12/2015 – 12/2017 | Slovak Academy of Sciences, Institute of Musicology, research fellow |

Teaching Experience at the University and other types of schools
09/ 2015 – 06/ 2016

Pan-European University, Faculty of massmedia
Lectures and workshops in History of music

09/ 2014 – 08/ 2015

Deputy Director
Art School of Ľudovít Rajter, Sklenárova Bratislava

09/ 2013 – 08/ 2014
Piano teaching
Art School of J. G. Mendla, Brno
09/ 2010 – 08/ 2013
Piano teaching
Art School of Pohořelice
09/ 2006 – 09/ 2009
Comenius University in Bratislava, Faculty of Philosophy
Workshops in PhD studies: Music analysis, Music History
09/ 2002 – 06/ 2007

Piano accompanist
Art School of Ľudovít Rajter, Sklenárova Bratislava

Further Experience
09/ 2014 – present

Head coordinator of cultural activities for children, youths and adults
Cultural and Educational Centre Ister, Bratislava

09/ 2008 – 08/ 2014
Head coordinator of cultural activities for children, youths and adults
Educational Centre Brunea, Brno

10/ 2005 – 11/ 2005
10/ 2003 – 11/ 2003

Assistant of international festival of contemporary music Melos-Étos
Music centre, Bratislava
08/ 2004
Professional experience in the archives of manuscript collections
Music museum Slovak National Museum, Bratislava
09/ 2000 – 06/ 2008
Coordinator of cultural activities for children, youths and adults
Cultural and Educational Centre Ister, Bratislava