The building of the RCH Institute for Musicology will be closed between November 1, 2022 and March 31, 2023 due to technical reasons. The staff of the Institute can be reached by email. Thank you for your understanding!
This closure only concerns the Institute itself, the Museum of Music History is still open from 10:00 to 16:00 every day, except for Mondays.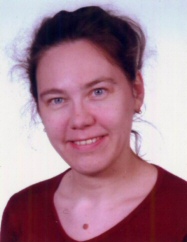 | | |
| --- | --- |
| Department: | Bartók Archives |
| Degree, position: | PhD, Research Assistant |
| Email: | This email address is being protected from spambots. You need JavaScript enabled to view it. |
| Room: | 104 |
| Phone: | +36 1 214 6770, Ext. 264 |
CV
Virág Büky graduated in musicology from the Liszt Academy of Music in Budapest in 2002 with the thesis A vokális moresca. Egy népszerű műfaj a 16. század végi Itáliában. [The moresca vocale: A popular genre in late 16th-century Italy]. 2001–2004 and 2018–2020 was a postgraduate at the Budapest Academy, she earned her PhD in 2021 with a thesis on Ditta Pásztory, "I was an Exceptional Pupil of Him" – Ditta Pásztory Bartók, the Pianist and the Fellow Artist.
Since 2000 she has been working at the Bartók Archives of the Institute for Musicology of the Hungarian Academy of Sciences. Her activities include: digitizing Bartók autographs, collecting data for a Bartók bibliographic database, the computer setting of musical examples for the editorial notes of the sample volumes of the Béla Bartók Complete Critical Edition in preparation.